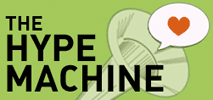 There has been so much traffic from Hypem in the past 12 hours that I am a little scared about my bandwidth usage. It's cool though because people have been staying and reading past posts. Hypem is a great way to find new music, I really don't use it enough. You can also sync your listening on your Hype Machine account to your last.fm account. So web 2.0!
It's funny that there are iTunes & Amazon links to buy Vex, because I am 100% certain you can't. That's okay though, because I am joyous to share Vex with the world, even though I lost the auction for the album yesterday.
Hi Hype Machine visitors!